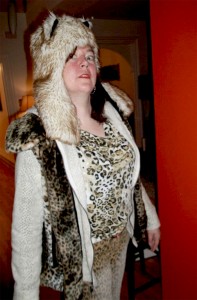 I know, I know. I'm not the cougar you are looking for.
Maybe you thought I'd be putting myself in wacky situations with younger men, trolling bars for cubs, and wearing slutty clothes for 365 days straight. These plot lines are not out of the question, but hardly sustainable day-to-day. (At least for me, they're not- that's a whole other project.)
A waning misogynist label that pop culture just can't seem to shake, a 'cougar' is defined as a woman over 40 who aggressively demonstrates her (hetero)sexuality. In a beauty obsessed, youth worship culture, this non-traditional demonstration of sexuality exists outside of a heteronormative context, making the woman in question open to ridicule and dismissal. In other words, as an older lady, you're either invisible, or you're a sex-crazed huntress. Accompanying this stereotype is the implied pursuit of a younger person; prey for the cougar (to continue the hunting metaphor) to capture and (sexually) devour. This prey is often the focus and motivating factor that is cited for the cougar being a cougar in the first place. Although I'm sure the role of this prey or 'cub' will rear its head at some point over the year (here's to you, Mrs. Robinson), currently, this is not my focus.
However, my younger girlfriend may disagree.